Uploading lineups with CSV files
Manually entering 150 lineups into a contest one by one is time consuming and prone to errors, that is why we offer the ability to upload lineups in a CSV (Comma-Separated Values) document.
This "power user" feature designed for active Daily Fantasy players allows you to compile all of your lineups in a spreadsheet, export the file as .CSV, and then upload all of the lineups at the same time using a web browser on your desktop device.
How do I mass upload lineups?
Select the Lineups tab in the Daily Fantasy lobby, or visit https://www.draftkings.com/lineup
Click the 'Upload Lineups' button
Under the Download Template column, select a sport, contest format, and start time.
Click the button to download the CSV template
Open the CSV template file in a spreadsheet application such as Google Sheets, Microsoft Excel, or Apple Numbers.
Fill out the template with your lineups. Please note that you cannot exceed 500 lineups in a single CSV file, and each file you upload must contain players from only one template
Export the spreadsheet file as .CSV to your computer.
Upload the saved file by clicking the Upload CSV button.
Once the uploaded lineups are processed, a notice will appear to inform you that your uploaded lineups will be compatible with contests for the selected sports, and the start time for Draft Group.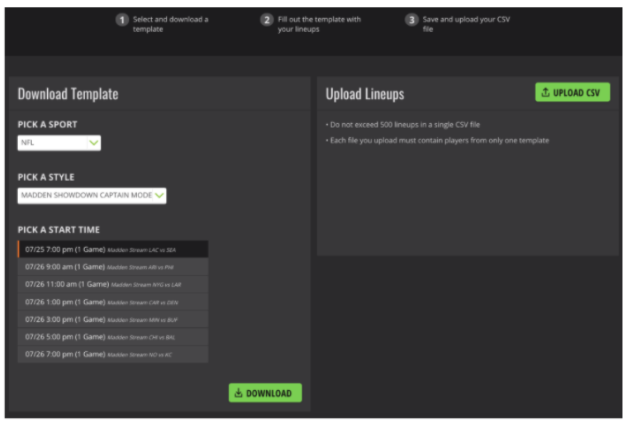 How do I bulk edit my lineups by uploading a CSV file?
You can edit existing lineups by uploading changes to the CSV file. For fastest processing, only include entries that have been changed in your file.
From the My Lineups page, select 'Edit Entries'
Using a spreadsheet to edit the CSV file previously created above, edit the lineups. We suggest you delete any lineups from the CSV that remain unchanged to expedite processing.
On the right hand side of the Edit Entries page, select the Upload CSV button.

Important CSV notes
The CSV upload option is only available for desktop devices.

Do not exceed 500 lineups in a single CSV file.
Each file you upload must contain players from only one template.