Overview
A futures bet is a bet on the outcome of a multi-stage event such as a season or a tournament. Futures can refer to both team and player markets, such as which team will win their division, league, or championship, as well as which player will win league MVP or Rookie of the Year.
Futures bets are typically posted onsite leading up to a specific league's season and are adjusted accordingly during the season duration.
For example: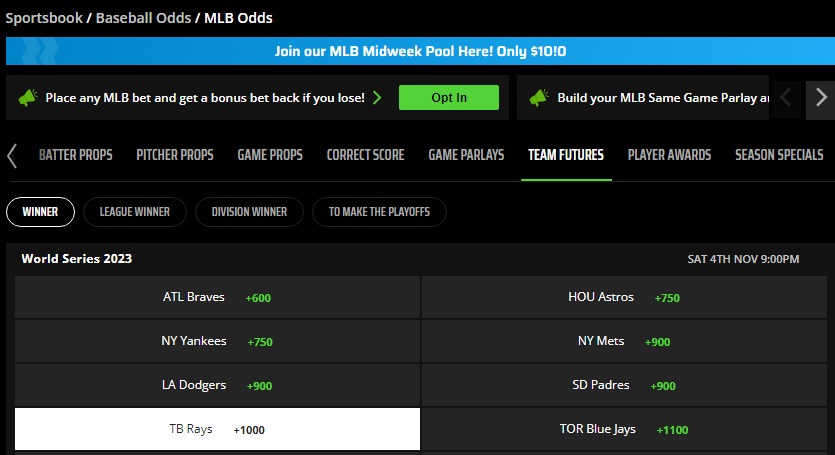 In the picture above we can see that the Rays are at +1000 odds to win the 2023 World Series outright. This means that a $100 bet on this outcome can net you a profit of $1,000.
League Winner, Division Winner, and To Make the Playoffs are other examples of categories available for futures betting.
DraftKings also offers a variety of options for player futures, including markets on awards such as Most Valuable Player, Rookie of the Year, and Defensive Player of the Year, to name a few (Note: some awards are only approved in select states). Markets such as player statistics for the duration of the entire season are also available.
Why can't I find futures bets?
DraftKings offers futures bets as frequently as possible.
Occasionally while games are going on, these bets may be taken down in order to adjust the odds accordingly.