A round robin (RR) bet allows you to combine multiple parlays into one bet. The more selections you make, the more parlay combinations you will have in your RR.
Once you make your selections, an RR will create parlays of all possible combinations between them. You will then be able to place your preferred combinations in your bet slip quickly and efficiently.
For example: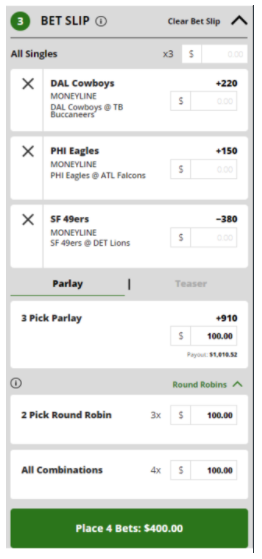 In this bet slip, we have made three selections - the DAL Cowboys, the PHI Eagles and the SF 49ers to win.
If you choose to place a 2 Pick RR, it will cover all combinations of these three outcomes and you will be placing 3 bets with one transaction:
The 2 Pick RR combinations would be:
Cowboys + Eagles

Cowboys + 49ers

49ers + Eagles
Since each of these three combinations would cost $100, placing the 2 Pick RR will be $300.
As long as 2 out of the 3 teams win, in an RR you'll receive a payout. This is the main difference between a RR and a regular parlay, where you would need all three teams to win for your bet to be considered as winning.
The All Combinations option would also include a 3-team parlay in addition to the one listed above:
Cowboys + Eagles

Cowboys + 49ers

49ers + Eagles

Cowboys + Eagles + 49ers
Since it will include 4 bets, the cost will be $400.
Important: RR bets can't be used with same game parlays (SGPs).