The GameCenter's Standings section will show the current rank for each entry in the contest, up to 500 entries. For contests that include more than 500 entries, each Team Name will be listed up to the 500th position, and after that only the last place Team Name for each prize tier will be listed.
For contests in progress

, the standings will be updated regularly, and you'll see changes in rank as points are accumulated in real time.

For contests that have been marked as completed

, the standings will show each entry's final rank and prize position.
If you're within the top 500 entries at any time, your Team Name name will be displayed in the Standings column, or you can use the Find a rival search box to locate your own Team Name.
Important: Live contest scoring is strictly for entertainment purposes. Only completed games in the History section will display DraftKings' official scoring of the contest, and this validation process doesn't begin until all games within the contest are final.
Example: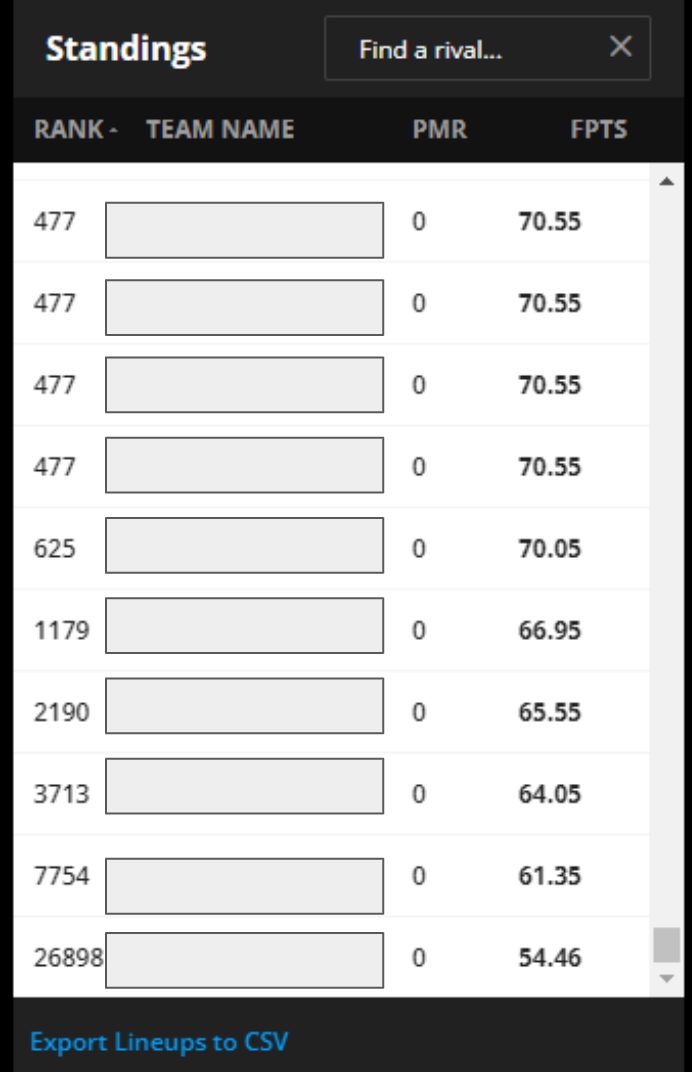 In this example, there were 133,591 total contest entries with 23 payout levels. The 1st through 17th prize levels were all paid within the top 500 entries.
Note: 74 (seventy-four) entries tied for rank 477.
The remaining entries listed in the Standings column are the last entries for each prize tier beyond rank 500:
625: last entry paid at the 18th level

1,179: last entry paid at the 19th level

2,190: last entry paid at the 20th level

3,713: last entry paid at the 21st level

7,754: last entry paid at the 22nd level

26,898: last entry paid at the 23rd level
To see a full list of each entry, rank, lineup, FPTS, and more, please visit DraftKings on a desktop device and Export Lineups to CSV. Learn more about exporting contest results to CSV.